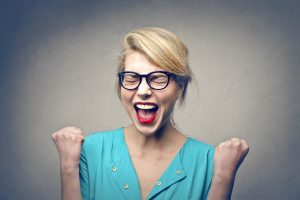 God is FAITHFUL! Amen and Amen!
How could I possibly find words to describe the way I feel?! (The picture above does me justice!)
First things first, as I promised I would be writing last week:
"This past Tuesday, He brought another (faith-building) opportunity. One of greater risk, greater nervousness, greater fear involved. To be brave and sing boldly in front of the church for Sunday worship. Not backup singing, but leading a song.
So I did, and He saw me through the nervousness and the fear – and my faith in Him was strengthened."
That must be the theme for my life right now – "He saw me through".
Friends, friends. God is good. He is good to me and He is good to you. Step out in faith. Step out on that water! Watch the waters part before your eyes, "taste and see that the Lord is good!" (Psalm 34:8)
Last year, I attended the Women of Faith Conference in Denver. One of the lead female speakers, Christine Caine, in her pleasant Australian accent, encouraged us all to never fear when your circumstances are frightening, or seemingly impossible. She said, "God doesn't even like to show up until the circumstances are impossible!" Because then – when it is clear that we could not fix our own problems, heal broken relationships, overcome addictions by ourselves – only then can all the glory go to God. Those around you will see and understand that, without a doubt, there is a supernatural power at work in you. I pray this is true for my life, and I pray it is true for yours.
Take that first step of faith, brave men and women of God.
"Fear not, stand firm, and see the salvation of the LORD,
which he will work for you today.
For the (enemies and trials) whom you see today, you shall never see again."
(Exodus 14:13)

How Great is Your Love by Mercy Me
My heart is steadfast of God
And I will sing
With all my heart and soul
Music for the King
And I will awake the dawn
With my praise to you O Lord
How great is Your love!
So much higher than the heavens,
With faithfulness that reaches the sky!
How great is Your love!
So much higher than the heavens,
With faithfulness that reaches the sky!
O, how great is Your love!
Praise the Lord O my soul
And glory to the King
Forever You are robed with majesty
We come to you O Lord
And Lay our praise at your feet
Be exalted O God and let Your glory reign
Be exalted O God and let Your glory reign
Let it reign