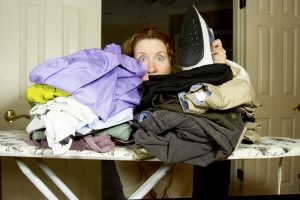 Dear Overwhelmed Mama,
You have my heartfelt sympathy and compassion. I have very recently been where you are and know how desperate you may feel right now. Sometimes the work of a home and a family can be absolutely suffocating. But I would like to offer you a moment of respite from the storm – and perhaps a little bit of hope that things can change.
Clear your schedule, dear Mama. Nothing will refresh your soul like taking a week off of running errands, playdates, homeschooling, writing, and whatever else tends to eat up your time. Of course, some things we simply can't get rid of – but jettison anything at all that is expendable. Use your first day or two to just get your feet back under you. Spend time cuddling with the kids. Don't create a grand lunch or dinner – choose to have leftovers or cereal or just fresh fruits and veggies with peanut butter. It's really OK. Stay in your jammies. Take extra time to make yourself a cup of your favorite coffee or tea. Breathe deeply and listen to some restoring music.
If you're like me, then the first thing that tends to go when you get too busy is your quiet time. Don't beat yourself up – just get back on the bandwagon. It really is that simple. Put your kids in the bathtub and read your Bible for a few minutes right next to them. Take your journal outside and sit nearby while they play. Give up the idea of 2 or 3 hours of solitude and quiet! God can and will work within whatever space your current life situation will allow. Just have a heart that desires to meet with Him and He will make a way.
I have recently felt the bulk of the weight of housework lift from my shoulders – part of this is largely due to the fact that my youngest kiddo is now almost 2, but the other piece to the puzzle has simply been my resolve to love my family well through just doing it. That's right. I don't put my housework on a schedule at any level. I leave my schedule open to flexibility, and when I pass a sinkful of dirty dishes, I stop what I'm doing and start cleaning. Same with laundry or a floor that is screaming to be swept. Just do it! So what if you get interrupted? Most chores can easily be paused and resumed later. If you have children who are old enough to help, then don't forget that it's healthy for them AND for mama if they are trained to help. Older children (anyone above 5) who have been taught to notice messes and deal with them quickly and without being asked are a great asset to any family.
The point is not to have a clean home. The point is to love every person who lives there, and any other person who might walk through our doors. Floors don't have to be perfect, toys don't have to be out of sight. But take a little time to create beauty and peace in your little corner of the world – you and yours will be glad that you did. Candles, soft music and pleasant scents go a long way to providing rest to weary souls, even if there are legos underfoot and grime in the bathroom sink!
Our house is clean enough to be healthy, and dirty enough to be happy!
Author Unknown
In Large Family Logistics (this is NOT an affiliate link, it's only here for convenience), mother Kim Brenneman wrote two incredibly useful chapters called Moving Beyond Survival Mode and Coping While Exhausted and Overwhelmed . A few of her tips included working for 10 minute spurts and taking a 10-minute break. She outlines basic ideas for putting simple morning, afternoon and evening routines in place to create a sense of stability in your days. She even suggests having pre-chosen outfits for each day of the week so that you don't waste time staring at your wardrobe each day! (What, that's not just me?!) But to really get to the heart of it, she offers insight and encouragement – you are not alone. There are many mothers who know exactly what you are going through and can help you overcome! If you are overwhelmed mama, I would highly suggest finding this book at the library and seeing if Kim's suggestions will work for you. (If  you're in the Denver area, shoot me a message and you can borrow my copy of her book!)
I've also been reading Desperate by Sarah Mae and Sally Clarkson (this is also NOT an affiliate link). It is another of my highly recommended books to find "hope for the mom who needs to breathe". It's a beautifully synergistic relationship between older mother Sally and younger mother Sarah. You get a precious peek into their rare Godly mentoring relationship and are honored to watch as Sarah has grown as a mother because of the time and effort Sally has poured into her.
Dear precious mama, please take a minute to text or call someone who cares about you. Tell them honestly (and perhaps tearfully) where you're at and ask humbly for help. At the very least, know that they will be praying and rooting for you in your journey. I am too.
You are blessed among women, and the Lord has great plans in store for you!
Stacey Joy